KALDOR - FARMING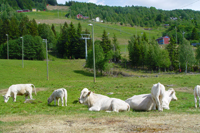 Grazing cattle in the alpine slopes


Kaldor is located in Øyer, Gudbrandsdalen, 16 kilometers north of Lillehammer. Hafjell Alpine Center is our closest neighbor to the North, and is using much land during winter time. Winter Olympic 1994 was held here. Click here for more on the Kaldor name.


Since 1991 we breed beef cattle, a herd of Charolais. We produce approximately 15 calves a year. In the summer our cows (30-40 individuals) graze in what are the slopes of Hafjell Alpine Center in the winter.

The main buildings are located about 350 meters above sea level. Used farmland is some 200 da (20 hectar). We also have a flat mountain farm (seter) at Nysetra just below the top of Hafjellet, at 950 meters above sea level. The mountain farm is only accessible by car during the summer months. There remain approximately 20 acres. It has been recultivated and expanded in the 1990s and 2000s.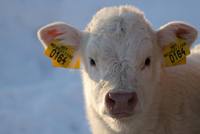 Betty
Until the beginning of the 1960's, the farm was run in the traditional way, with milk cows, pigs, sheep, goats, poultry and horses. Until 1973 it was sheep and horse. First tractor came in 1985.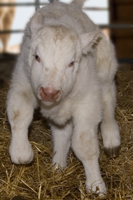 Brandt
The farm originally consisted of 17 buildings including 4 at the summer farm, but 3 barns had to be torn down due to the establishment of the Alpine Center in 1988. See Kaldor history. Almost all buildings have been renovated by the present owners. In the fall of 1996 we built a new barn adapted to the needs of our cows, who prefer the outdoors to the indoors, even during the harsh winter months.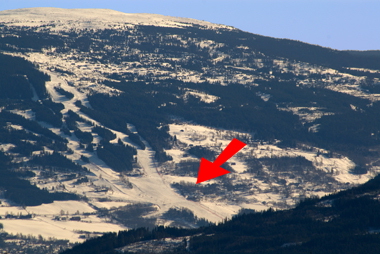 Kaldor is situated at the foot of the Hafjell Mountain
WEATHER:
The weather at Kaldor from Yr
Met.no - radar