--

Førå house
x

Kaldor Farm is located in Øyer, County of Oppland in Norway 17 km north of Lillehammer. It lays 350 meters above sea level. It has the most beautiful view over the Gudbrandsdalen valley. The mountain area is georgious! In summer it is ideal for walks, cycling and visits to the many attractions in the area (see links below). In winter for both alpine and cross-country skiing. Closest neighbour is Hafjell Alpine Centre with ski-in and -out possibilities.

One of the houses at Kaldor is the Førå. In earlier days it was a tradition that the former owners would retain certain rights when signing over the farm to the new generation (or to new owners) including the right to a place to live, a part of the farm produce and maybe some land and animals. Such a provision would be called «førå» (short for «føderåd»), in some parts of the country «kår». The house used for this purpose would be the føråsbygning, or førå. Our Førå was built around 1930, on the foundations of the old «eldhus» (where the food going into storage was prepared). A full restoration of the Førå was completed in 2008 with a 5 bed capacity (see description below).


Click on pictures to enlarge:




More pictures - Web-camera - Weather


e-mail: kaldor@kaldor.no

Tel: +47- 906 77251 / 900 57958

Kaldor Gard, Sørbygdsvegen 379, N-2636 Øyer
GPS location: N 61.2344o E 10.4614o.


---

House information
Size, 90 m2 - Build 1930 Renovated 2008
Building material: Wood - Insulated for all seasons
Laid out garden, 1000 m2 - Parking: next to the house ( 2 cars)
Under floor heating in bath and entrance rooms
Capacity: 5 Persons (3+2 beds)

Plan (click to enlarge):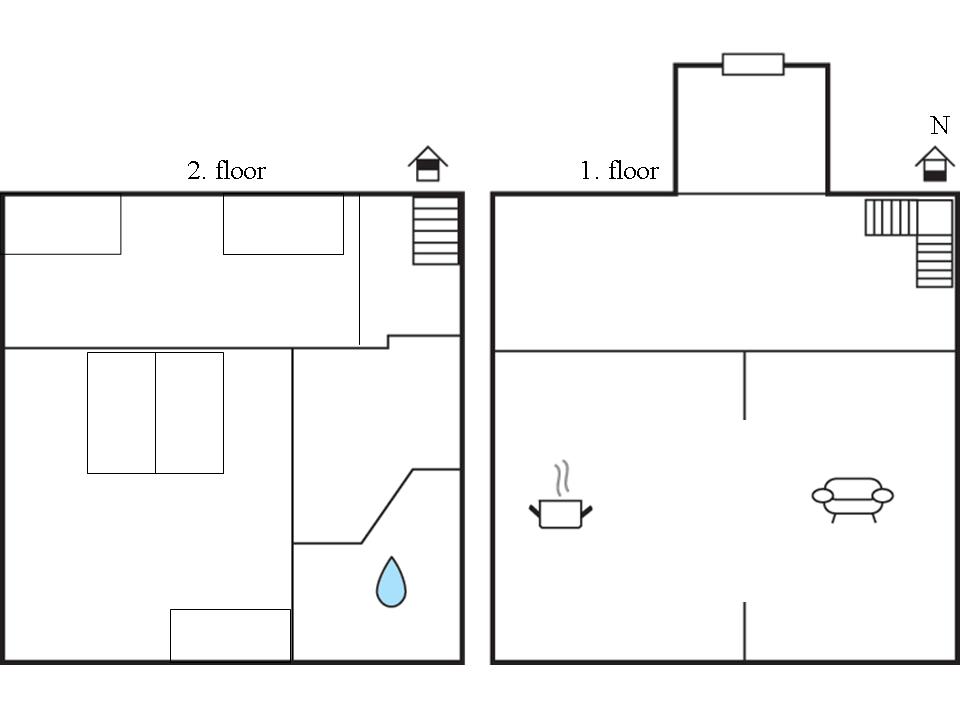 Amenities
Woodburning stove / Electric heating
1-TV: Satellite, European. - Stereo and CD player DVD
Dishwasher, Washing machine w/ Tumbler drier
Microwave oven - Refrigerator, Freezer, 150 L
Hot and cold water - Underground water source - drink it from the tap!
Electric cooker / Coffee brewer / Vacuum Coffe Pot / Vacuum cleaner
Garden furniture and Barbecue - Playhouse
Wireless internet access
Remarks / Extras:
Energy not included (electricity / wood)
Bring your own bed linen and towels
Pets not allowed
Final cleaning service available
Seasonal: Firewood heated hottub (outside) Pic 1 - Pic 2
Possible capacity expansions:
Beds only: Neighbouring two-floor Stabbur (2+2 beds).
Fully-equipped all-year: Ground floor in historic styled neighbouring Vetlstugua (3 bed capacity).
You can come to Kaldor easily by car on highway E6. You can also come by air or boat to Norway, and then take the bus or train directly to Lillehammer.

---
Activities:
Alpine skiing:
Hafjell Alpine Centre, 20 meter
Skeikampen Alpine Centre, 10 km
Kvitfjell Alpine Centre, 25 km

Cross-country skiing:
Through Hafjell (20 meter) and lift, or 8 km by car to mountain parking place

Lekeland Hafjell: 2 km
Hafjell mat / food, 2 km
Norsk Vegmuseum, 3 km
Hunderfossen Family Park, 3 km
Bobsleigh, 3 km

Jorekstad Water Park, 10 km
Maihaugen / Aulestad / Bjerkæk museums: 16 km

Fishing (River): 1000 m
Shopping: 2,0 km
Restaurants/Pizza: 3-400 m

Web-camera / More webcams
Weather forecast

Distances:
Lillehammer: 17 km / Hamar: 75 km
Train station (taxi or pickup)

Oslo International airport: 130 km
Oslo: 180 km
Trondheim: 320 km
West coast / Fjords: 250 km
---
----
Norsk: Norge, Østlandet, vinter, langrenn, overnatting, hytte, ferie, formidle, snø, leie, fiske, TV, ski, brett, skiheis, Gjestegård, sykkel, mat, ukesleie,
Generelt: Pellestova, Ihlsetra, Gaiastova, Panorama, seter, Nyasetra, Mosetertoppen, Gondol, Fossekroa, Vegmuseet, Skeikampen, Kvitfjell, Nermo, Aasletten, Quality, Gjestegård, Lisetra,
English: Norway, downhill, slalom, skiboard, cross-country, accomodation, sleeping, cottage, cabin, home, apartement, summer, winter, holiday, vacation, destination, home, apartment, snowboard, bicycle, snow, action, piste, close,
Deutch: Norwegen, Ferienhäuser, Ferienwohnungen, Urlaub, vermieten, schnee, buchung, Kiel, Color line,
Svensk: Stugor, stuga, semester, boka, Fjällregionen, grannland, skid,
Dansk: Dejlige, København båt, DFDS,
Nederlandsk: Dutch, Noorwegen, vakantie, natuur, berggebied, vakantiehuis, zuid,